Okay Christmas is coming and we all want deals, and we want then cheap with FREE Shipping!
Join eBay Daily Deals and that is what You will get!!
Just Click Below: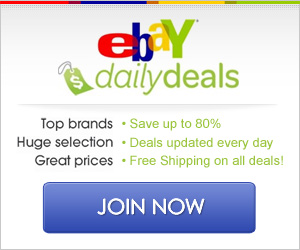 One-day deals. Plus Free Shipping. A limited quantity of incredibly discounted items – every day. Snap them up… they don't last long.
Huge Selection | Incredible Values | Top Products
Save up to 80% on featured items Offers are always fresh and replenished often Always get free shipping on your orders Hurry! These extraordinary offers won't last long
Check out my page on Facebook! "Like" the page for great coupons, deals and scenarios at
KRAZY COUPON CLUB