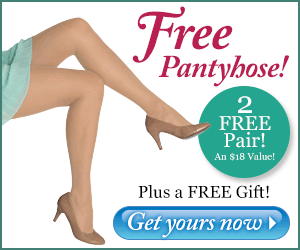 WOW!!! HOT DEAL! It's back! FREE Pantyhose or Tights!! So if you missed it the last time it was available I suggest that you grab this deal fast!! 2 FREE Pairs of Body Slimming Pantyhose! · Feel sexy, slim and super-comfortable all day! · Your legs, butt and tummy will all look great! · Pay just $3.95 shipping and handling!
With Beauté Classique Hosiery, your legs, tush and tummy will always look great! The silky, sheer nylon blend clings to your curves for a comfortable fit that feels custom made just for you.
Your FREE pantyhose feature:
Body-slimming control brief tops for a smooth and sleek look
Cotton gussets for additional comfort between the seams
A subtle shadow toe for extra support
Sensually soft sheerness
An 82% nylon, 14% spandex and 4% cotton blend that allows for added flexibility
Just go HERE to get your offer now!
This post may contain affiliate or referral links. By clicking through on these offers, you are helping to support this site. Thank You, Krazy Coupon Club!!
                            Also like KCC on Google+!!- HERE  
Check out my page on Facebook! "Like" the page for great coupons, deals and scenarios at KRAZY COUPON CLUB