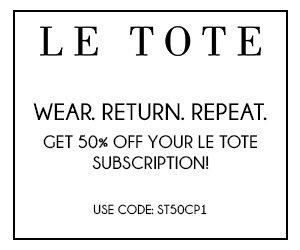 :
Le Tote – Receive unlimited styles delivered to your door! Wear. Return. Repeat all Month!! Get as many totes as you want each month.Each Tote contains 3 garments + 2 accessoriesSelect styles you love by adding them to your closet!
Wear everything for as long or as little as you want!
Send the rest back, we'll ship a new box immediately!
No commitments or contracts. – Get totes as often as you like, and cancel anytime!
Free Priority Shipping both Directions!
This post may contain affiliate or referral links. By clicking through on these offers, you are helping to support this site. Thank You, Krazy Coupon Club!!
                            Also like KCC on Google+!!- HERE  
Check out my page on Facebook! "Like" the page for great coupons, deals and scenarios at KRAZY COUPON CLUB